HISTORY

On May the 15th 1934, the William Starling Burgess Design J-Class Rainbow was launched at the Herreschoff Yard in Bristol, Rhode Island, USA. She was built to defend the America's Cup against "Endeavour" in 1934. The first 2 races where tough for Rainbow but the last 4 races she beaded Challenger Endeavour. Owner Vanderbilt laid Rainbow up in a dry dock and then refitted her. In 1937 she was sold to Chandler Hovey and contended for defence of the Cup. Sadly for her, Ranger won and became the new defender for the next Cup. In 1940 Rainbow was sold for scrap.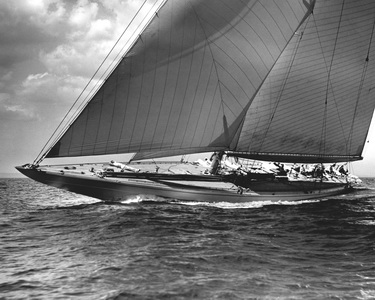 Dykstra & Partners Naval Architects where chosen to give Rainbow a new life. A repeat client, the former owner of Windrose of Amsterdam, showed his trust in the Dykstra team to be the Naval Architects and designers for this new J-Class yacht. The 46 meter schooner Windrose of Amsterdam set the Trans Atlantic schooner record at 10,5 days in 2005, the previous record of 12 days was set by Charley Barr with Atlantic in 1905.
The 40 meter J-Class Rainbow will be built in aluminum and designed according to the JCA (J Class Association) maximum performance rules. She is expected to launch in 2010. Dykstra & Partners have gained over 20 years of J-Class experience and where responsible for the rebuilds of the J-Class yachts: Shamrock V, Velsheda, Endeavour, refit of Ranger and the new build Endeavour II. Rainbow will be the 2nd new J-Class in order for the Dykstra team. More new J-Class projects are in design for clients.
To keep the J-Class fleet and races alive and to encourage new build yachts to enter the field, new JCA maximum performance rules have been developed, including allowing aluminum as building material. The new rule is a VPP (Velocity Prediction Program) based rating system which puts limits to the performance. The aim of the JCA, the Dykstra team and the rule is to bring fair & close racing to the fleet and to give all designs a chance of winning (on a handicap based system). Over the years the Dykstra team gained an enormous amount of hands-on information by racing on all the J's in the current fleet